What does 10-12 lbs of confectioners sugar make?
Sometimes in life, a little confectioners sugar must fall. Or in my case, about 10 lbs of it. As I had previously mentioned, I had been working feverishly on a sweet 16 birthday party cake. And thus, let the hellish story begin.
See, I'm not much of a planner. Though, for big events I want to be as prepared as possible. But, I have found, no amount of planning on my part could have prepared me for the event that was to come, or the amount of sugar that would be consumed!
You see, sometimes I get in my head these brilliant baked icing topped ideas of fabulousness - and somehow, they never translate quite as I anticipate. Although, my final product came out pleasing, it was not at all what I was going for. Lets just say, I didn't fair well in geometry class!
My original idea was to have a 3ft x 3ft base cake covered in marshmellow fondant in a fantastic hot pink tone. Somehow, my brain thought three **RECTANGULAR** shaped pans would make this occur. ??? My bad. So I ended up with a very long rectangular base. And from this my brain child idea of doing a diamond shaped top was thrown off the chart, thus leaving us with another rectangular cake on top.
But the flavor. Oh my GOODNESS! The flavor of this cake was divine. We had the most moist sweet vanilla base coated in a very generous layer of pink butter cream frosting. 7 LBS of confectioners sugar ended up here between the butter cream and the marshmellow fondant. Surprisingly, the cake was not overly sweet. I thought for sure 16 year olds would be bouncing off the walls in a sugar high frenzy. But, alas, this did not occur.
The top portion of the cake was the most frustrating, and the most challenging. Since Michaels was out of the pitch black fondant that was requested by the birthday girl, I ignorantly attempted to make my own black fondant. Oh dear Lord, this was a huge mistake. There is not enough black food coloring, or frosting on earth to turn fondant black.
3. hours. later. We gave up. Another batch of fondant was made in pink. We trimed the entire cake with black frosting, and salvaged the darkest parts of the black fondant science experiment and made flower cut outs.
All in all, The finished product came out fantastic. Will I be making more fondant birthday cakes any time soon? Probably not.
With the left over butter cream frosting, I used the remaining black dye and made these delicious chocolate cupcakes, decorated with more flower cut outs.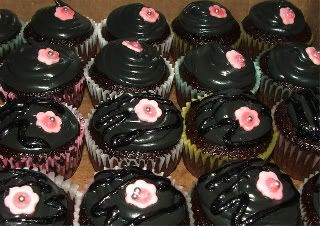 Aren't they precious??
A satisfying, exhausting, frustrating experience. But my gosh! The cake tasted fantastic!
Enjoy!