Black Eyed Susan orange zest sugar cookies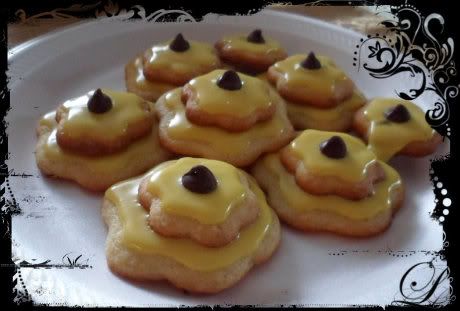 I subscribe to a lot of magazines. I get inspired by looking at all the delicious recipes and pictures. For a few weeks I've been eying these cute little daisy cookies I found in Taste of Home magazine. I added a twist by adding orange zest directly into the batter and it is purely genius. The taste is so fresh and bright. I'm usually not that good at baking cookies - but I have to say, for a first attempt, I've quite pleased with the results!
Ingredients
1 cup butter, softened
1-1/4 cups sugar
2 eggs
1 teaspoon orange extract
Zest of 1 orange
2-1/2 cups all-purpose flour
1 teaspoon baking powder
1/2 teaspoon salt
GLAZE:
2 cups confectioners' sugar
1/4 cup milk
1/2 teaspoon orange extract
2 to 3 drops yellow food coloring, optional
Additional confectioners' sugar
Black gumdrops or Chocolate chips
Directions
In a large bowl, cream butter and sugar until light and fluffy. Beat in eggs,orange zest, and extract. Combine the flour, baking powder and salt; gradually add to creamed mixture. Divide dough in half so that one portion is slightly larger than the other; shape each into a disk. Wrap in plastic wrap; refrigerate for 1-2 hours or until easy to handle.
On a lightly floured surface, roll larger portion of dough to 1/8-in. thickness. Cut with a floured 3-in. round or scalloped cookie cutter to make flower bottoms. Place 1 in. apart on greased baking sheets. Repeat with remaining dough using a floured 2-3/4-in. flower or scalloped cookie cutter to make an equal number of flower tops.
Bake larger cookies at 350° for 8-10 minutes or until golden brown; bake smaller cookies for 5-7 minutes or until golden brown. Remove to wire racks to cool completely.
In a small bowl, combine the confectioners' sugar, milk, extract and, if desired, food coloring; mix until smooth. Immediately spread over cooled cookies. Stir additional confectioners' sugar into remaining glaze to thicken; spread a small amount on bottom of smaller cookies; place over larger cookies. Top with gumdrops or chocolate chips.
~*~*~*~
Next weekend I am hosting a baby shower for my sister in law, Christina. I will be using this same recipe to make cute butterfly cookies since she has a bit of a butterfly princess theme going on in my soon to be niece Brooke Lynn's room. I'm excited to experiment with the glaze with making intricate butterfly wings. We'll see how I fair at that!
*Note: Photo from Just A Bite blog - http://http://beckys-recipes.blogspot.com
Becky's Butterfly Sugar Cookie recipe can be found at:
http://beckys-recipes.blogspot.com/2008/05/butterfly-sugar-cookies.html
Tomorrow, however, is a sad day in the family. Christina's mother Jane passed away a little over 1 week ago. She was very young, and heart breaking for Christina and her young son Jordan who is only 5 years old - but was incredibly close to his Grandma "Gigi". Christina's Aunt is having a dinner party after the services for family and friends. I've volunteered to make the baked ziti, and a kid friendly dish, hot dog mac & cheese casserole. They are expecting some 200 people. That's a lot of people!
Well, that's all for today peeps. I'll update with baby shower happenings later this weekend!