Crafty goodness
Well, since I'm temporarily immobile and have time on my hands, I figure I may as well do something with my time. Updating my blog seems like a good place to start. I went on Etsy today and asked in the forum if people still blog - or is it a dying art? There were many responses, which I'm grateful for. I found a nice group of new blogs I am following, that have inspired me to write a blog about my craft life.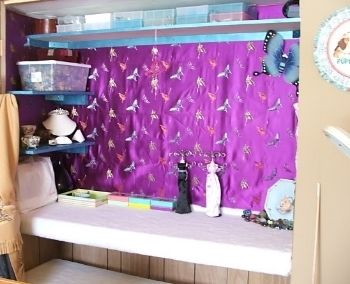 This is my work bench in my craft room. Admittedly, I seem to "craft" all over the house. We made this craft room with the good intention of keeping our hobbies in one designated area. I have come to the conclusion that the creative process doesn't like walls. It doesn't have boundaries, and it definitely can not be contained. Even in a room made entirely for the purpose of creativity.
I've had that butterfly fabric for years, and I never knew what to do with it. I don't really sew much, but somehow have collected tons of fabric over the years. I needed something better to look at than a blank brown wall of a closet. We turned a closet into my work bench area - it seemed to serve the best purpose.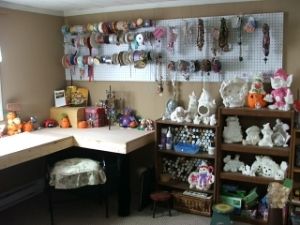 While I primarily make jewelry - we do have a variety of other things we like to dabble in. Before making jewelry, I would do decorative painting with my Mom - hence all the paint. BJ painted ceramics before I met him - and it's something he enjoys doing, especially around the Holidays. The wooden bench in the corner we custom built in the craft room for BJ to have a space to paint, and to do his chainmaille. BJ doesn't have much wood working experience, however, my Father and my Grandfather both did wood working. I spent a lot of time in their work shops.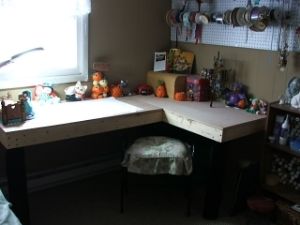 So, this is (sometimes) where we create. But the reality is, you'll more likely find me with beads spread all over my bed while my husband plays XBox One, and my cats making a mess of things. All part of the creative process?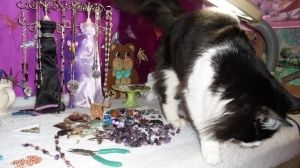 And sometimes, just sometimes, we actually get things completed amid all the distractions.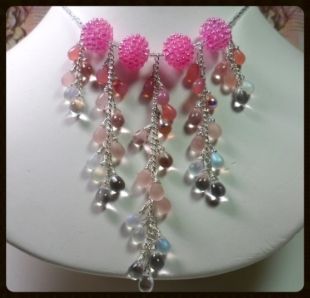 My creative process is pretty messy, actually. It normally consisted of beads everywhere. I never know what it is I'm going to make before I make it. I just start... putting things together. Sometimes they turn out. Sometimes they don't. Sometimes I get frustrated and don't bead for months on end. But then I have months where all I want to do is create - and can not focus on anything else.
So, this is just a little insight into the on goings of what we do in our home to make the things we do - with a little assistance of the four legged babies.