Blueberry Pancake Cupcakes with maple cream cheese frosting, sprinkled with BACON!
Oh yeeeesssssss... it's bacon time! Why? Because there isn't a single moment in the day that could go without bacon. Bacon should be it's own food group. Along with Cheese. Preferably at the top of the pyramid. They are too superior to be catagorized with just "Dairy" and "Protein". Oh no no, alas, they deserve their own thrones on the foodie goodness ladder.
Ahem. Okay, so another delicious creation has yet graced the planet. I know, I know - all you people out there who just *can not stand* the thought of your foods touching - look away! Look away NOW! Your eyes will bleed, or emplode in your skulls.
For the rest of us, I ask you... feast your eyes on THESE...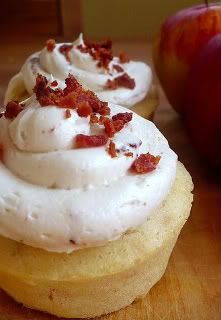 It's a pancake, it's a cupcake, its breakfast, it's savory, it's every good thing in life rolled up into one magical mouth watering morsel. It's the ultimate bacon cupcake.
These are so easy to make it's ridiculous. And, they travel well. I take them to work for breakfast every day, because, well... I'm addicted to them.
Here's what you do.
Ingredients:
Your favorite pancake mix - mix as directed
Frozen Blueberries - 1 cup
2 tablespoons sugar
Mix the above as per the directions on your favorite pancake batter package. Line a muffin tin with paper liners. Fill about 2/3 of the way, and bakeon 350 for 10-12 minutes. If the cupcakes are still loose in the center, bake another 1-2 minutes. Allow to cool on a wire rack.
For the frosting
1 package cream cheese, softened
1/3 cup PURE maple syrup (none of that generic stuff! Although it'll work just as well)
Powdered sugar
Beat the cream cheese until smooth, add in the maple syrup, and mix until thoroughly combined. The icing will be soupy at this point. This is okay. Gradually add powdered sugar until you reach your desired frosting consistancy.
Bacon - bake or fry until it is done to your likeness. Crumble or chop well with a sharp knife.
Pipe frosting onto your cooled pancake cupcakes. Sprinkle with crumbled bacon.
Eat.
Enjoy!