Chocolate and Strawberries - Cupcake Supreme!
By now you have probably caught onto the fact that I am *addicted* to chocolate. Like... need rehab addicted. I will find a way to sneak chocolate into pretty much any recipe I can think of. Chocolate beer? Absolutely! Chocolate chili? Sign me up! Chocolate covered bacon? *** paralized tantilized fascination ** Chocolate fish? Well, maybe the fish is going too far... HOWEVER, Strawberries and chocolate are just such a perfectly balanced compliment of flavors and textures, it's hard to resist.
Thus was born, my divine strawberry cupcakes with whipped chocolate frosting.
Oh yes... these are fantastic. First, we start with the batter recipe:
1 1/2 cup all-purpose flour, sifted
1 tsp baking powder
1/2 tsp baking soda
1/4 tsp kosher salt
4 oz unsalted butter, at room temperature
1 cup granulated sugar
1 large egg, at room temperature
2 large egg whites, at room temperature
1/4 cup whole milk, at room temperature
1/4 cup pureed strawberries (use all-natural frozen that have been thawed)
1 tsp pure vanilla extract
Fill a 12 cup cupcake pan with cupcake liners
Whisk together flour, baking powder, baking soda and salt. Set aside. Add vanilla and strawberry puree to milk and set aside.
In standing mixer, cream butter and sugar on medium-high speed until light and fluffy. Slowly add egg and egg whites and mix on medium speed until blended.
With mixer on low speed, add half the flour mixture until just blended. Add milk mixture and mix just until blended.
Add remaining flour mixture and mix just until blended. You do NOT want to over mix the batter, that will cause the cake to be too dense and dry out quickly. Scrape down bowl to make sure entire mixture is smooth.
Divide batter between 12 cupcake cups and bake for approximately 22 minutes or until tops are just dry to the touch.
Allow cupcakes to cool completely. No one wants to frost their cupcakes, only to have all that delicious chocolate frosting fall off!
So, meanwhile, while these cuppies are cooling...
In a double boiler (simply a glass bowl placed over a pot of simmering water, bowl does not touch water), place semi-sweet chocolate & milk chocolate chips, and whipping cream. Stir until chocolate is melted and mixture is smooth when stirred. Refrigerate until thoroughly chilled.
In a large mixer bowl, beat the powdered sugar, butter and vanilla unil thoroughly blended. Gradually add chocolate mixture, beating until stiff.
Place frosting inside a piping bag with your desired decorating tip - OR use a plastic resealable bag, and simply snip the end and pipe this way. Either way works fabulous. Decorate your cuppies as desired!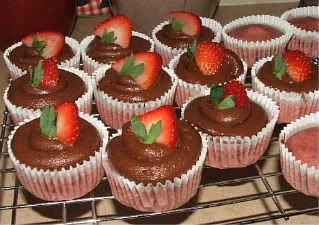 To garnish, I took fresh strawberries and made thin slices to place at the top of each cupcake, along with some of the green leaves. These can be substituted for fresh mint leaves as well. Just make sure not to eat the strawberry leaf if you chose that as your garnish!
Enjoy!