Vanilla Lemon cake with Vanilla Coconut frosting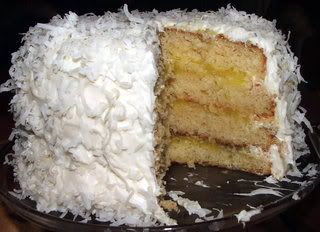 I made this cake last year for Mothers Day. But truly, it's a spectacular cake for spring in general. The fresh flavors are so welcoming after a long cold winter. The lemon is a perfect compliment to the delicate vanilla flavor.
What you'll need:
2 cups sugar
4 eggs
2-1/2 cups all-purpose flour
1 cup milk
3/4 cup vegetable oil
2-1/4 teaspoons baking powder
1 teaspoon vanilla
Cooking Instructions
Preheat oven to 350 degrees. Line two 9-inch round cake pans or one 9x13-inch rectangular baking pan with parchment paper. Grease the paper and the sides of the pan well.
In a large mixing bowl, with an electric mixer, beat sugar and eggs together until slightly thickened, about 1 minute. Add flour, milk, oil, baking powder, and vanilla and beat for another minute, just until the batter is smooth and creamy. Don't overbeat. Pour batter into the prepared baking pans.
Bake in preheated oven for 30 to 40 minutes or until the tops are golden and a toothpick poked into the center of the layer comes out clean. Loosen the sides of the cake from the pan with a thin knife, then turn out onto a rack and peel off the paper. Let cool completely.
Once cooled, with a large serrated knife, cut cakes in half, making 4 rounds.
Lemon Curd:
1/2 cup fresh lemon juice
2 teaspoons finely grated fresh lemon zest
1/2 cup sugar
3 large eggs
3/4 stick (6 tablespoons) unsalted butter, cut into bits
Whisk together juice, zest, sugar, and eggs in a 2-quart heavy saucepan. Stir in butter and cook over moderately low heat, whisking frequently, until curd is thick enough to hold marks of whisk and first bubble appears on surface, about 6 minutes.
Transfer lemon curd to a bowl and chill, its surface covered with plastic wrap, until cold, at least 1 hour
Frosting:
3 cups confectioners' sugar
1 cup butter
1 teaspoon vanilla extract
1 to 2 tablespoons whipping cream
In a standing mixer fitted with a whisk, mix together sugar and butter. Mix on low speed until well blended and then increase speed to medium and beat for another 3 minutes.
Add vanilla and cream and continue to beat on medium speed for 1 minute more, adding more cream if needed for spreading consistency.
Layer evenly the lemon curd between the cake layers, stacking the layers as you go. Once all layers are set in place, generously frost your cake with the vanilla frosting. Sprinkle with sweetened shredded coconut.
Voila! Beautiful and delicious.
Enjoy!