Baby Shower Fun!
C'est moi!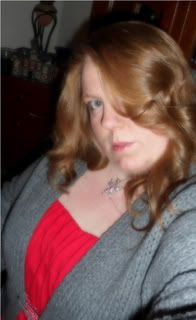 This is probalby one of the better pictures I have of myself. I hate having my picture taken. Then I pain stakingly photo edit as much as possible to get that true plastic effect. haha But, speaking of pictures - I promised to update about the baby shower I threw for my sister in law, Christina. Here she is.
I can't begin to tell you all how stressed out I was over this baby shower. I wanted it to be perfect. And, to my surprise - it went off without a hitch!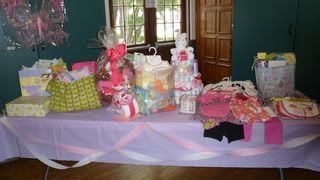 Christina made out like a bandit with the presents. I'm happy for her. She got a lot of really cute stuff for baby Brooke. We're so excited to meet her! She will be here May 29th. The butterfly cookies that I majorly stressed over came out beautiful. I was so happy with them. They were still soft and chewy with a delicious glaze. Do I want to make douzens of these at a time again? No time soon. Maybe just for special occassions. The decorating was the worst part. My hand kept cramping.
One of the ladies that Christina works with baked and decorated these beautiful cakes for the party. Everything was from scratch and tasted delicious. This only took her 1 hr 15 minutes! It would have taken me a week!
All in all, it was a good day. Christina had fun, the guests were thrilled - they even loved my pea in the pod earring favors that were given out. The prizes for the games were fabulous and matched Christina's butterfly theme. Do I want to do it again any time soon? No. But it was a really great experience. Enjoy!