Cookies, Butterflies, Home, Cake pops
I positively love these butterfly cookies. Ever since Christina's baby shower - butterflies have become very inspiring to me. There is something about their grace and freedom that I admire. For my 32nd birthday this year, my Mother made me a beautiful scrap book. She used a beautiful lace style butterfly as part of the decoration. The pictures she used were from my honeymoon in Salem, MA.
But I think that one of my favorite parts of the scrap book were the pictures from my home in Vermont. You see, I have not been back to Vermont since 2001. When I left, I think I left my heart there, too. No place since has really ever felt like "home". If you've ever heard the Miranda Lambert song "Can't go home again" - you would understand the feeling that comes over me to see pictures of that old house.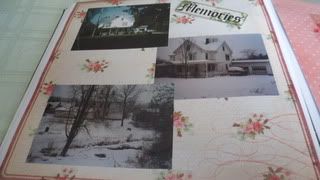 You know how when you come home you have a feeling of peace inside your soul - I haven't had that in so long. I've lived in NY, NJ, and now PA after leaving Vermont. While all these places have had their charm - none of them have made me feel like I belonged. Not to say necessarily that I "belonged" in Vermont, either - infact, quite the opposite. But my house - that old house - it was magical. And huge. With a ton of history. I grew up believing that those walls were my safety. And, once we left - I never got that feeling of safety back - like at any moment, everything could change. I like my house that we live in now. It's a nice house, also with a lot of history. I get to see mountains for miles. And on the 4th of July, you can see, for miles and miles, fire works going off in different counties. We watch from our patio that my husband his cousin built a few years back. I guess I really just wish I could turn into a butterfly and fly back to that house in Vermont. I don't know that I'll ever go back again. But on a lighter note - I DID get to make some fabulous orange marmalade cheesecake cake pops for Kraig's birthday at the office. I also made a batch for my mother in law for Mothers day. For a first attempt, I must say, I'm quite impressed with myself. Not to toot my own horn or anything. Aren't they sweet?
Here's what you do: 1 box vanilla cake mix - baked as directed - and allow to cool overnight. Crumble into small pieces once completely cooled and place in batches into a food processor with 2 tbspns at a time of orange marmalade, and 2-4 tbspn of Philadelphia cheese cake (found in refrigerated section of grocery store). Pulse until a dough ball forms. Form into balls that measure approximately 2 inches and place on a non-stick cookie sheet. Insert pop sticks (found at craft store - ac moore or michaels) into each cake ball. Place in freezer for 1-2 hours. Once cake pops are solid - melt down in a microwave safe bowl chocolate candy melts. Dip each cake pop one at a time into the melted chocolate and immediately cover with desired decorate. Secure the stick end into foam board and allow to completely harden. Once chocolate has completely set, wrap in clear plastic wrappers. These can store in refrigerator for up to 1 week.