Candied bacon ultimate chocolate cupcakes
We've discussed in a previous entry the sweet savory breakfast pancake bacon cupcake - and today - we are discussing the irresistible ultimate chocolate bacon cupcakes. This is my mother ship. My heaven. My happy place when I am alone, and scared, and... ehem.
The best part about food is that it's so easy to experiment. Sometimes you have to try the most ridiculous flavor combinations to truly experience what great food is like. I mean, seriously - who looked at a cow and said "Hey, I want to drink what comes out of that!". But, someone ultimately discovered that if you a milk a cow - voila! You have a great ingredient for cupcakes. I'm not 100% positive that's how that went down - but I'm sure it's close.
So, here they are!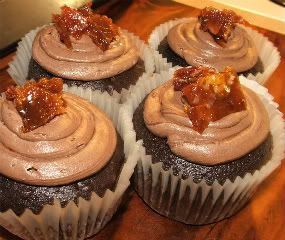 ~*~* What you'll need *~*~
Candied Bacon:
Bacon
White sugar
water
Cupcakes:
1 1/8 cups all-purpose flour
1/4 cup Ghirardelli Unsweetened Cocoa
1 1/4 teaspoons baking soda
1/4 teaspoon salt
1 large egg
1/2 cup firmly packed light brown sugar
1/2 cup granulated white sugar
1/2 cup whole milk plus
2 tablespoons whole milk
1/3 cup strong brewed coffee or espresso
1/2 cup unsalted butter, melted
Frosting:
6 ounces Ghirardelli Semi-Sweet Chocolate baking bar, broken or chopped into 1-inch pieces
3/4 cup heavy cream
3 tablespoons unsalted butter
1 cup Ghirardelli Milk or Semi-Sweet Chocolate Chips
Bake bacon in oven to your desired crispness, allow to cool, then chop into bite size pieces. Set aside on a greased pan.
In a heavy bottom stainless steel pot, turn heat on medium high, and add 1 cup white sugar. You must be very careful when making caramel, it can quickly burn.
You will need a basting brush and water for the sugar. Once the sugar starts to liquify and crystalize on the edges of the pot, dip the basting brush in the water and swirl along the edges of the pot only. Do not pour water into the sugar. You will need very little water. This is simply to deglaze the edges and help the sugar to caramlize.
Once the sugar has turned into a rich golden tone, carefully and slowly drizzle over the chopped bacon. Allow the carmel to cool completely in the refrigerator or freezer. Once the caramel bacon has set, break or chop the brittle into bite size pieces.
Preheat the oven to 350 degrees. Line 12 cupcake molds or muffin tins with paper liners or spray with nonstick spray.
To make the cupcakes, sift together the flour, cocoa, baking soda, and salt.
In a medium bowl, whisk together the egg, brown sugar, and white sugar. Whisk in the milk, coffee, and melted butter. Whisk in the dry ingredients. Divide the batter evenly among the cupcake liners, filling them about three-quarters full.
Bake for 15 minutes, or until a tester inserted in the middle of the cupcakes comes out clean. Cool for 10 minutes. Using a small spatula or knife, remove the cupcakes from the pan. Continue to cool on a wire rack to room temperature.
To make the frosting, melt the chopped chocolate in the top of a double boiler, or in a heatproof bowl, over barely simmering water, stirring occasionally until smooth. Heat the cream until hot. Remove from the heat and whisk in the chocolate. Transfer to a bowl and cool to just warm. Whisk in the butter until smooth. Let sit until it reaches a piping consistency, about 1 hour. Pipe the frosting on top of the cupcakes. Sprinkle them with the candied bacon.
*Note - you can reserve some of your chopped bacon before you candy it to put into the cupcake batter - which is what I normally do.
Enjoy!