Pulled pork taco's with peach salsa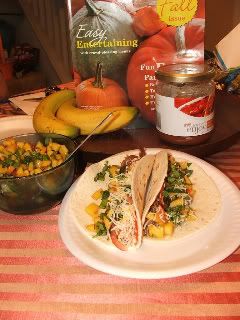 Don't you love fall and winter cooking? I love the warmth of those seasons - especially the colors. When I think of fall, I think of Vermont where I grew up. The crisp air, where it smells like snow but none is falling quite yet, the color of the leaves, the quietness on the back country roads where the only occassional sound is some furry creature in the woods.
Fall, for me, reminds me of family. It's that time of year you get together and share memories, and make new ones - especially in the kitchen. I know in my family, the kitchen was the heart of our gatherings. Whether my Father was making his famous stuffing, or my Grandmother was making leg of lamb, my Mother with her ability to create perfect Christmas cookies, or my Aunt was baking her menagerie of pies with a home made pie crust that would put Betty Crocker to shame - there was always a memory in a kitchen.
One of mine and my husband's favorite things to make during the fall / winter is slow cooked pork shoulder. We normally get a 7-9 lb pork shoulder, and then create our own rub. Our rubs vary, depending on what herbs and seasonings we currently have on hand - but the taste is always divine.
In the base of your slow cooker, place a variety of vegetables. We mainly stick with frozen onions & peppers - but this is where you can BYOC. Be your own chef. Pick the vegetables that appeal to you. That's what's so great about cooking - it's all about being creative with what you have on hand.
Now, for the rub - we typically start with a Applewood spice, about 1/2 cup - and add things that appeal to us from there. Generally it's chili powder, paprika, cumin, red pepper flakes, ginger, salt, and pepper. Mix this all together in a bowl and then generously rub mixture into the pork shoulder, every inch. Place the now seasoned piggy into your slow cooker, and add in 1 can of crushed tomato, and 1/2 cup bbq sauce all around the roast. Top pork with a heaping mound of brown sugar (approximately 1 cup) and rub into surface - and finish with approximately 1/4 cup minced garlic, and mush down into the brown sugar.
Place slow cooker on high for 4 hours, and then low for 6 hours. When your pork shoulder is done, the bone will just fall out.
Laddle out most of the liquid that was produced in the slow cooking proces, but reserve approximately 2 cups. Set aside.
Once the pork is cool enough to touch, begin shredding the meat into fine strips. Once all of the pork is shredded, drizzle in the left over juices and mix with the meat. Set aside.
Strain the peppers and onions (or vegetables of your choice) and place in a separate bowl.
One of the things I think goes perfectly with pork is peach salsa. I like to make my own. I find that fruit salsa's from the store are mushy and don't have the powerful flavor I'm looking for. To create the peach salsa what you'll need is:
1 large firm peach
5 large fresh basil leaves
2 sprigs of fresh mint, leaves removed
1 Tbspn EVOO
1 Tbspn honey
Fresh cracked black pepper
Chop peach into cubes - leaving skin on. Roll your basil and mint leaves together into a tight bundle, and make find ribbon slices with a knife. Mix peaches, herbs, EVOO, honey, and pepper together in a bowl.
To create your pulled pork taco what you'll need is:
Flour tortilla's
A variety of toppings such as:
* diced tomato
* tomato salsa
* shredded cheese
* cabbage slaw
Assemble your taco's to your desired taste, and enjoy! This is just a fun family style meal that is great for any occassion.
Enjoy!