Crack Brownies AKA Knock You Naked by The Pioneer Woman
Okay, so I'm slightly unhealthily obsessed with these brownies. Even after making myself nearly sick to death yesterday with Fat Tuesday - I am still craving a hunk of gooey chocolatey brownie. These are ridiculously delicious - and I am positive there is not one fiber of anything good for you in them.
That's what makes them so perfect.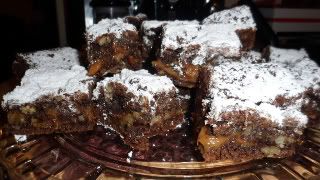 I discovered these babies while watching my new favorite TV show on food network - The Pioneer Woman. So this woman Ree is living my dream life. For real. She lives on a huge beautiful range, with her wrangler jean wearing husband and adoring children. She has hound dogs. They have a full farm of animals. They shoot guns. She makes cookies and writes books. They home school. She has red hair. Her blog is http://www.ThePioneerWoman.com
I could barely contain my excitement when I saw the brownie episode aire, I just had to go get the ingredients. These are so easy to make, it's amazing the explosion of flavor they have.
What you'll need:
1 box (18.5 Ounce) German Chocolate Cake Mix
1 cup Finely Chopped Pecans
1/3 cup Evaporated Milk
1/2 cup Evaporated Milk (additional)
1/2 cup Butter, Melted
60 whole Caramels, Unwrapped
1/3 cup Semi-Sweet Chocolate Chips
1/4 cup Powdered Sugar
Preheat oven to 350 degrees.
In a large bowl, mix together cake mix, chopped pecans, 1/3 cup evaporated milk, and melted butter. Stir together until totally combined. Mixture will be very thick.
Press half the mixture into a well-greased 9 x 9 inch square baking pan. Bake for 8 to 10 minutes. Remove pan from oven and set aside.
In a double boiler (or a heatproof bowl set over a saucepan of boiling water) melt caramels with additional 1/2 cup evaporated milk. When melted and combined, pour over brownie base. Sprinkle chocolate chips as evenly as you can over the caramel.
Turn out remaining brownie dough on work surface. Use your hands to press it into a large square a little smaller than the pan. Use a spatula to remove it from the surface, then set it on top of the caramel and chocolate chips.
Bake for 20 to 25 minutes. Remove from pan and allow to cool to room temperature, then cover and refrigerate for several hours. When ready to serve, generously sift powdered sugar over the surface of the brownies. Cut into either nine or twelve helpings, and carefully remove from the pan.
Enjoy!